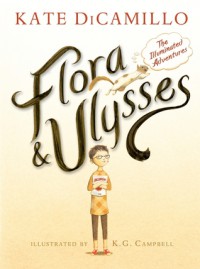 A friend let me borrow this awhile ago. It seemed like the only time I was reading was while eating breakfast, and I didn't want to risk spattering milk on someone else's book, so this languished.
After the announcement that this had won the 2014 Newbery medal, I decided I'd better finish (and return) it! Loved this one, it had me laughing out loud several times.
I was saying yesterday (when I gave just 3 stars to Doll Bones), that maybe the problem was that I wasn't the target audience. Well, I'm not the target for this book, either, so maybe it's just that Doll Bones wasn't "me" -- but Flora and her superhero squirrel are definitely up my alley.....